10 unbelievable facts about alcohol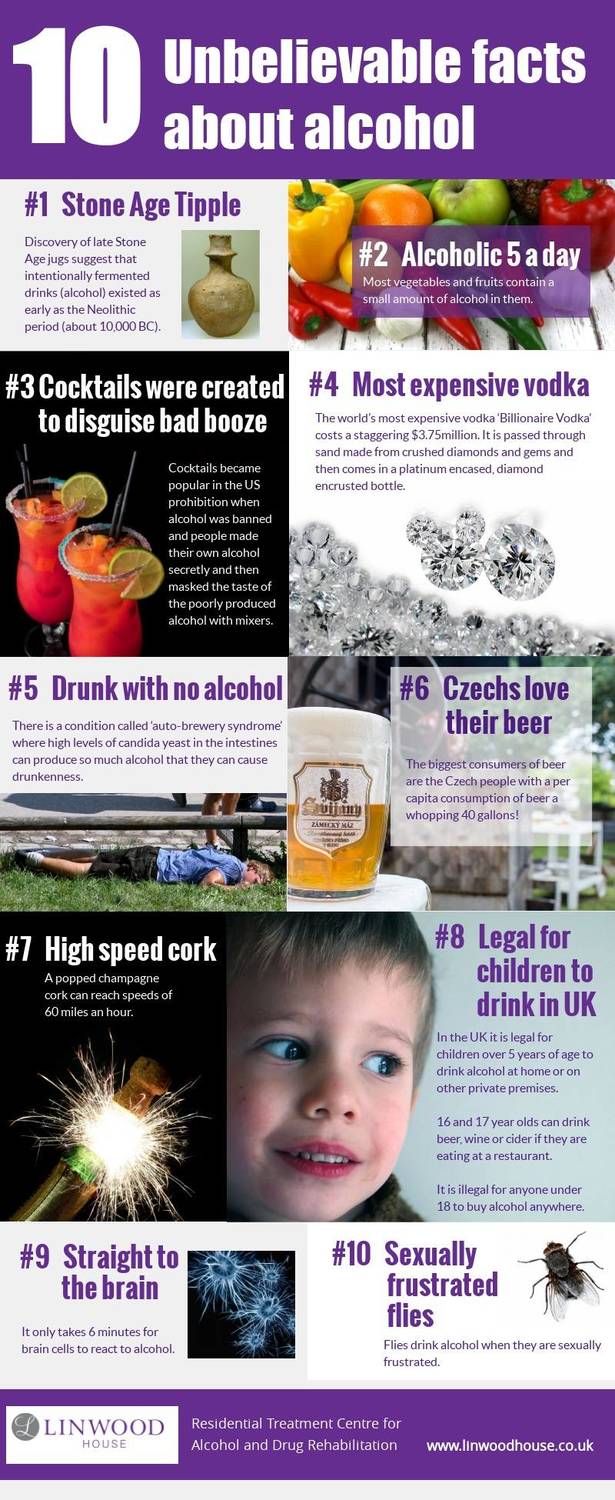 10 unbelievable facts about alcohol
Stone Age Tipple
Discovery of late Stone Age jugs suggest that intentionally fermented drinks (alcohol) existed as early as the Neolithic period (about 10,000 BC)
Alcoholic 5 a day
Most vegetables and fruits contain a small amount of alcohol in them
Cocktails were created to disguise bad booze
Cocktails became popular in the US prohibition when alcohol was banned and people made their own alcohol secretly and then masked the taste of the poorly produced alcohol with mixers
Most expensive vodka
The world's most expensive vodka 'Billionaire Vodka' costs a staggering $3.75million. It is passed through sand made from crushed diamonds and gems and then comes in a platinum encased, diamond encrusted bottle.
Drunk with no alcohol
There is a condition called 'auto-brewery syndrome' where high levels of candida yeast in the intestines can produce so much alcohol that they can cause drunkenness.
Czechs love their beer
The biggest consumers of beer are the Czech people with a per capita consumption of beer per head of a whopping 40 gallons
High speed cork
A popped champagne cork can reach speeds of 60 miles an hour
Legal for children to drink in UK
In the UK it is legal for children over 5 years of age to drink alcohol at home or on other private premises
Straight to the brain
It only takes 6 minutes for brain cells to react to alcohol
Sexually frustrated flies
Flies drink alcohol when they are sexually frustrated