Alcohol Detox
There is a great fear about alcohol detoxing as alcohol withdrawal symptoms can be  extremely unpleasant, distressing and, in some cases life-threatening. The abundance of alcohol in every-day life can make it very difficult to come off alcohol whilst in the community and the effects of withdrawal can make the pressure to have a drink too much.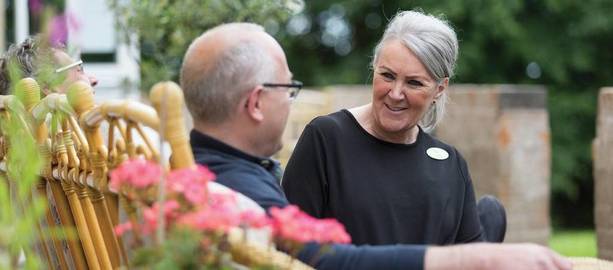 For any individual that is dependent on substantial qualities of alcohol to function daily, they must gradually wean off the substance to reach sobriety. Without the correct medical supervision, the alcohol detox process can be very life-threatening.
Before considering any alcohol withdrawal programme, it's critical to choose a facility that can support the patient's needs. For more information on admissions, call Linwood House anytime on 03301 736 751 We're open 24 hours a day.


What is alcohol detox?
The process of detoxification is to safely remove toxins from the body, with the goal of moving towards long-term sobriety. Detox alone isn't treatment. However, it's the first major phrase on the road to recovery.
Throughout the detox process, it's natural for someone to feel the urge or temptation to have another drink. Generally, when someone is dependent on alcohol and stops drinking, it's common for them to experience withdrawal symptoms.
Depending on the patient's tolerance to alcohol, withdrawal can cause the following conditions:


Delirium Tremens (DT)
A severe form of alcohol withdrawal that involves sudden mental or nervous system changes. Delirium Tremens occurs after a withdrawal process especially, when the patient isn't eating enough food.
Symptoms occur 72 hours after the last drink. However, in some cases, symptoms may happen sooner. Patients going through alcohol detox may experience:
body tremors
agitation
confusion
deep sleep
irritation
excitement
fear
anxiety
restless
agitation
worry
depression
cloudy judgement
sweating.
For anyone starting a medical detox from home will more likely be facing a dangerous situation. At Linwood House, we strongly advise that people seek professional, supervised treatment. For more information, call our admissions team on 03301 736 751


10 Reasons why an inpatient alcohol detox programme is one of the most effective ways of recovery
1) When a patient arrives at a private alcohol rehab and detox clinic, he or she will be assessed by a qualified health professional.


Based on the patient's response, the health professional will create a tailor-made treatment plan.
The health professional will ask about the following:
medical history
how much alcohol and or drugs the patient is or has been taking
any allergies.


2) The patient will be placed on a pharmaological reducing regimen.

Usually, Chlordiazepoxide, also known as Librium, to relieve the side effects of alcohol withdrawal. During detox, every four hours the patient will be checked to ensure there are no side-effects from the withdrawal process. Our proactive team of specialists will ensure that the patient is as comfortable as possible throughout the detox process.
3) The patient will receive professional "around-the-clock" care and support.
By choosing a private clinic, patients can rest assured they are in the best place to help with their recovery.
4) Family members can be put at ease knowing that their loved ones are in a safe and secure environment.
We all worry about our loved ones and especially when it comes to someone's health. That's why we're always here to offer support. Alcohol addiction affects not only the patient but families and communities. At Linwood House, our compassionate support staff know it can be overwhelming for families.


5) In-patient rehab is a purpose-built facility that is distraction free from the outside world and temptation.
During detox, patients will not have any direct communication with their families. The reason for this is to allow the patient to get accustomed to their new surroundings and focus directly on recovery.
6) The detox process is physically and mentally demanding and the patient needs the right care.
Patients come to Linwood House to sleep, rest, relax and eat healthy while going through the medical withdrawal process. Our goal is to encourage patients to get as much rest as possible. We know that this is a traumatic time for the patient. Being an environment that provides empathy and a wealth of support helps patients with recovery.
7) Patients don't need to worry about a thing.
We take care of your washing, ironing and cooking your meals. Patients are here to just focus on recovery.
8) People will surround patients that have gone through the detox process historically and turned their lives around.

At Linwood House, we're here to help. Empathy plays such a vital role when it comes to treatment. For a support worker to have walked in a patient's shoes and relate to their situation, this speaks volumes and offers encouragement.
9) Going through detox is one step towards turning your life around moving forward in a positive direction.

To improve in any profession or skill, you need to immerse yourself into the process and to overcome any addiction is no exception. Having the right support group from day one and beyond is critical. Even after leaving a rehab clinic, a patient will receive on-going support for weeks, months and even years to come.
10) After the detox process, patients can advance into rehab.

This next step is vitally important for long-term abstinence. Rehab allows patients to find the cause of his or her addiction. But before going into rehab, patients must be sober have any drugs or alcohol completely removed from the body.
Patients can receive treatment within 24 hours or less. When you go private treatment, you can beat the waiting lists and get treated fast. Many people believe that addiction treatment is free, but there's no such thing as free residential alcohol detox or rehab.

Nobody can be forced to go into rehab or alcohol detox either. However, it is essential to think of addiction treatment as an investment in getting the patient well, turning their life around and ultimately bringing wellness and happiness to everyone involved. For that, you can't put a price on someone's health.


Why choose Linwood House for Alcohol Detox Treatment
1) Immediate admissions
At Linwood House, we believe in prompt treatment. We don't agree with sticking patients on a waiting list, taking a deposit and we'll call you when a bed is free. That's not how we operate. Alcohol addiction is a severe illness. People need help fast. That's why we're available 24 hours a day and when you need us the most.
2) We will take care of all your needs
Our ethos at Linwood House is to help the patient get well. We also take care of everything from providing quality nutritious food to taking care of your laundry. Our support staff are here to support you every step of the way.
3) All patients have private rooms
We don't believe that patients should share rooms with other patients. Patients are paying for privately funded treatment. Our goal is to help you get the best rest and be undisturbed.
4) 24/7 dedicated support
At Linwood House, we're open 24 hours a day, 365 days a year. All patients whether they are in detox or rehab will always benefit from around the clock care and support.
5) All-inclusive treatment - what you see is what you pay
Inpatient alcohol detox is a private treatment. This type of therapy is not commonly available on the NHS. Fighting an alcohol addiction is a long-term illness, but if the patient can remain abstinent and sober for a very long-term, this is a very worthwhile investment.
If you weight up the cost of the funding the addiction, the emotional stress on family members and others around the patient, you can find this treatment to be worth its weight in gold. However, the road to recovery requires ongoing support and commitment from those helping the patient to move towards sobriety.
At Linwood House, we offer high-value quality treatment at an affordable price. Alcohol detox or rehab is not for just high-profile celebrities. As a not-for-profit organisation, we make addiction treatment affordable.
Our facility based in Barnsley, South Yorkshire and is available to patients from anywhere and all walks of life. It doesn't matter if you're from London, overseas or local. Our support team are here to help patients on the right path to recovery.
For more information, call our compassionate team of friendly specialists on 03301 736 751. We're open 24 hours a day, all day every day.
View all services