Managing your drinking habits during the Coronavirus lockdown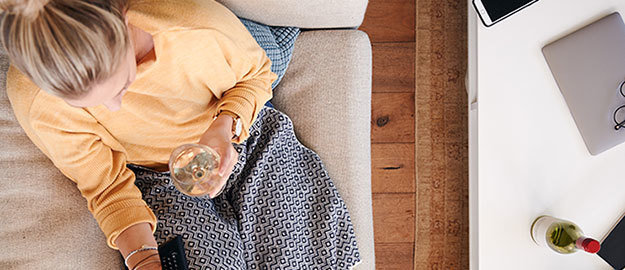 As we enter another month of lockdown in the UK, it is important for us to take time to check in and make sure that we are coping with the effects of this on ourselves and our wellbeing.
Today we are addressing the dangers of increased alcohol consumption during lockdown, and it isn't just those who have previously struggled with addiction who should be keeping an eye on this.


1 in 5 are drinking more frequently
Recent figures show that it is clear many people have turned to drinking as a form of comfort, and entertainment, to help them cope with these challenging times.
In fact, according to research commissioned by Alcohol Change UK people's drinking habits have changed drastically during this lockdown. Their research showed that 1 in 5 drinkers found themselves drinking more frequently during lockdown; meaning that approximately 8.6million adults in the UK are drinking more.
In addition, 15% of drinkers said they had been drinking more each time they had a drink. This shows that not only are people drinking more often, but increasingly people are drinking more in each session.


The problem with this
Whilst this might seem like a temporary problem, the impact can be significant – even to those who have not previously struggled with addiction. It can lead to:
Risk of forming habits that will carry on post-lockdown, and ongoing increased drinking
Negative impact on mental health
Increased tensions and volatility within your household


Addressing the reasons why
To tackle this problem before the impact becomes significant it is important to consider the reason why you might find yourself drinking more during lockdown. If you can address the root cause, you can find healthy alternatives.
Boredom
Novelty
Self-medicating for stress/anxiety/coping
Temptation (especially if alcohol was purchased in a panic during the initial lockdown)
Lack of regular routines and checks – if you aren't working right now there is no risk of being hungover for work
Everyone is doing it – seeing others do it on social media normalises increased alcohol consumption


When is it too much?
Sometimes one of the biggest challenges can be realising that you have a problem. It's in our nature to downplay the seriousness of things when we are faced with addressing uncomfortable issues. Drinkaware shared 5 signs that you might need to address your lockdown drinking habits:
You find yourself reaching for an alcoholic drink earlier in the day than you usually would
You find it difficult to stop after just one or two drinks
You're drinking due to boredom
You are drinking to calm your stress/anxiety
You feel that you need to drink more each time to get the same feeling


What can you do if you do have a problem?
If you think that you or someone you love might have a problem, there are some steps that you can take to address the situation whilst we are in lockdown. These are:
Reducing the availability of alcohol in your household by reducing the amount that you purchase
Use smaller glasses and measures, we recommend using these recommended measures
Use apps to track your drinking so you are aware of how much you are consuming
Put your bottles away and out of sight after pouring so that you aren't as tempted to top up
If your drinking was at an acceptable level pre-lockdown try to follow those same patterns, for example if you didn't drink on weekdays before lockdown keep this rule enforced during lockdown
Commit to having some alcohol free days every week
Try swapping out your usual alcoholic drinks for some lower alcohol content or alcohol free alternatives
Try to identify the reason why you might be drinking more so that you can replace your drinking with a better coping strategy, for example if you are bored perhaps a call to a friend or taking up a new hobby could help instead


Help is available
If you are worried, whilst the UK might be in lockdown there is still help available to you.
Alcoholics Anonymous Great Britain are still offering help via their website and National helpline.
Whilst due to the current situation with Coronavirus in the UK we are unable to take new admissions, we are always here for you.
Whether you need help with lapsing, relapsing or advice on how you can help yourself; our friendly and professional therapists are here to help.
We have 2 dedicated lines available 7 days a week, 11am-7pm.
07717 271 755
07825 865 017
This service is available to ANYONE who needs it
The safety and wellbeing of our residents (past, present and future) is our highest priority and we shall continue supporting people as much as we possibly can during this difficult time. We will continue to let you know as soon as we have any more information so please do keep checking our website, Facebook and Twitter pages for updates, advice and support.