Admissions process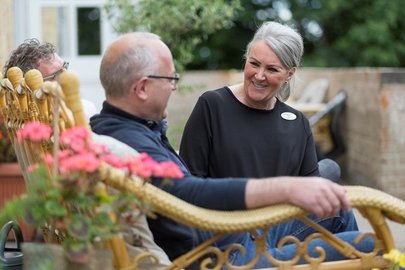 Bookings process
Once you decide that you would like Linwood house to support you through the recovery process, we will advise on the ideal length of stay so you can choose for how long you'd like to enrol.
After a few days, having adjusted to the detox, it becomes easier to settle into the new environment and build positive relationships. Therefore, it's advisable to attend for at least four weeks. Most people who book into addiction rehab for only a short while end up extending their stay.
Preparation
Once we've organised your arrival date, we will send you a questionnaire to fill out, which requires some details about your relationship with an addictive substance or behaviour. This helps us to assess whether you require a detox on arrival, if you need any medication to help you regulate substance levels and from what intensity of treatment you will most benefit. When everyone is happy with the treatment plan, we will ask you to pay a deposit. You will not have to pay the full amount until you arrive at the clinic.
What to bring with you
We want you to feel at home in our rehab centre, while also being able to focus on recovery fully. Here is a list of items you may want to bring with you.
Toiletries

Nightwear

Exercise gear

Comfortable clothes

Outdoor clothes

Medication

Umbrella

Sundries

Pictures

Mobile phone

iPod or radio

Laptop


The following items are not permitted in our centre:


Illicit drugs or alcohol

Any form of weapon or dangerous object

Sharp objects such as knives, scissors, needles and razor blades

Non-prescribed medication

Aerosols or perfume

Mouthwash that contains alcohol

Please bear in mind that laptop and mobile phone use will be limited, to encourage engagement with other residents.
On arrival
There will be a licensed psychiatrist to greet you on-site, who will help you adjust and answer any questions you may have. Linwood House is an open recovery space where you can be yourself. If you want to let out your emotions and tell us anything that is on your mind, we are here to listen and will do our best to ease any concerns.
You will then be given a tour of the recreational and eating facilities, shown where therapy groups are held and the different rooms you can take respite in and the private, en-suite bedroom that you can treat as your home for the length of your stay.
An assessment will take place to help the doctors and support staff understand more about your situation and help them finalise your treatment plan. We also provide you with a welcome pack that offers all the information you'll need for your stay with us, including a timetable of therapy sessions and activities.
If you have any further questions relating to admissions, please contact us directly and speak to a member of our team, who will be happy to assist you in any way that they can.