The challenges of receiving treatment for drug or alcohol addiction when you are a high earner or professional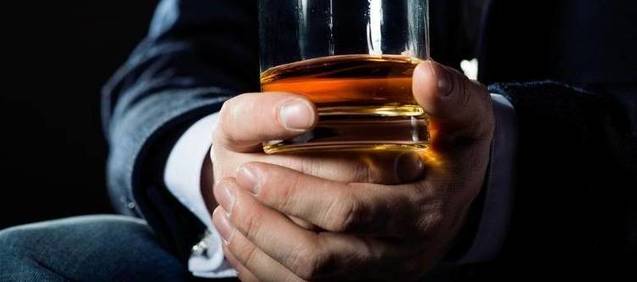 "The highest earners, those earning £40,000 and above annually, are more likely to be frequent drinkers and "binge" on their heaviest drinking day when compared with the lowest earners."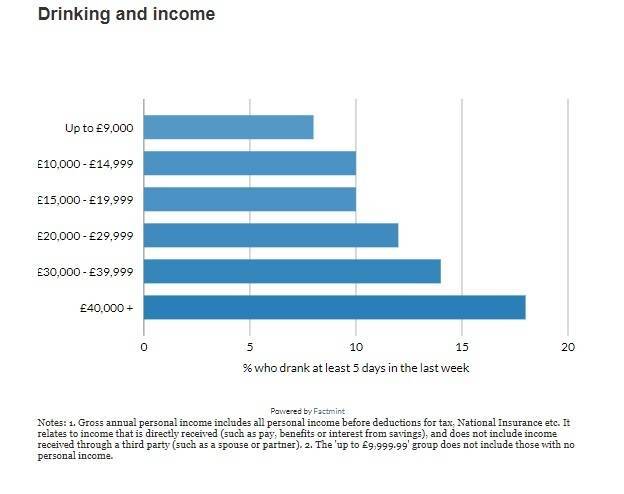 "18 percent of high earners admitted to drinking virtually every day (defined as at least 5 days of the previous week), which compares with only 8 percent of those on the lowest income band, below £10,000."
"In the £40,000 and over income band, 77 per cent of those who had drunk alcohol in the last week were men."
Source ONS 2016


The causes of excessive drinking
What can begin with drinks after work with colleagues to celebrate the end of the week, opening the wine in an evening at home as a de-stressing tool or partying at the weekend as a diversion from the responsibilities of your working life, can easily end up as an addiction, where drugs or alcohol are needed just to get you through the day.
People on higher incomes not only can afford alcohol, they are also more likely to engage in activities where alcohol and drugs are available or play an integral part; socialising with colleagues, eating out, holidays, watching sport and even at home socialising with friends.
There is also the problem that alcohol is still viewed by many as a reward. A reward for the 18 hour days they have been putting in, a reward for the stress and pressure they are under to maintain their lifestyle or the pressure of responsibility they have in their job.


Executive burn out
Many executives and high-earners thrive on stress and adrenaline in their professional lives. For some people, however, high levels of stress, especially over a long period, causes mental and physical exhaustion, or burnout. The symptoms of burnout include:
Irritability at work
Sleep problems due to a 'racing brain' that won't switch off
Lack of energy
Depression or anxiety when at work
Health problems such as headaches, fatigue, colds
Feeling of not coping
Low self-esteem / lack of confidence at work
Some people who experience burnout, seek to self-medicate with alcohol and / or drugs. They may use a drug such as cocaine to help them feel more alert and give them more energy, or use alcohol as a way of relaxing and to get to sleep.


The difficulties of admitting to addiction
Functioning addicts amongst professionals, business owners and high earners may go unnoticed by their colleagues, customers and patients for a while. The denial from the addict themselves can be very strong, especially when they are managing to hold their life together and carry on with their job.
"Research suggest that 15 – 24% of lawyers will suffer from alcoholism during their careers and the British Medical Association estimates that one in 15 healthcare professionals will develop an addiction."
Although highly educated, and fully aware of the dangers of addiction, it is often more difficult for these type of people to face up to their denial and seek out help. They may come from a business sector that has a work hard, play hard culture and feel it is an admittance of failure. For people in caring or service professions, it can be extremely difficult to move from being the care giver, to the person seeking help.
There is also immense shame and stigma associated with admitting to an addiction, which can be very difficult, for someone who is a high-achiever, to face.


Choosing residential rehabilitation
For many professionals who are in this position, residential rehabilitation is the preferred treatment option. Residential rehab is the most intensive form of alcohol and drug rehab treatment and can be a highly effective and a life-changing experience.
Confidentiality is a key concern for many people thinking about drug or alcohol rehab. People with a high profile or position of trust within their community, business sector or public eye, often want to keep their treatment private.
The nature of the rehab treatment also means that highly sensitive and private issues may arise as a result of the treatment and people want to ensure that there is the utmost of confidentiality around anything which may be discussed and come to light during these sessions.
Fortunately residential rehabilitation centres, such as Linwood House, treat confidentiality and patient anonymity as a priority.


Tips for retaining privacy and confidentiality
Find a rehab clinic that is located outside of the area where you live, socialise and work
If you wish to keep your treatment private from your employer, use holiday entitlement
If you are informing your employer, make sure your boss and HR keep your whereabouts confidential from your colleagues
Receive confirmation about patient confidentiality from your chosen rehab centre. Check out their policies for retaining anonymity throughout your treatment
If you are struggling with alcohol or drug addiction, you can call and speak to us confidentially on 01226 422 926