Addiction Facts vs Myths - Challenging the stereotypes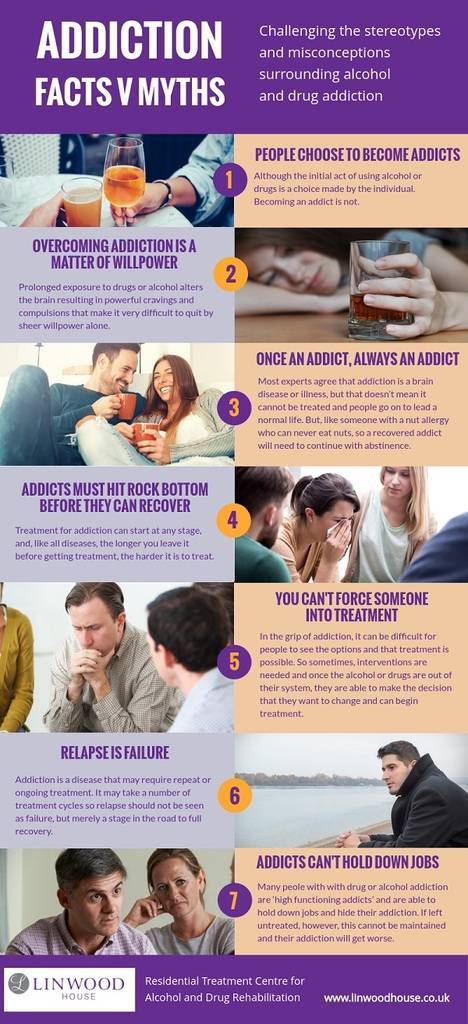 1) People choose to become addicts
Although the initial act of using alcohol or drugs is a choice made by the individual. Becoming an addict is not.
2) Overcoming addiction is a matter of willpower
Prolonged exposure to drugs or alcohol alters the brain resulting in powerful cravings and compulsions that make it very difficult to quit by sheer willpower alone.
3) Once an addict, always an addict
Most experts agree that addiction is a brain disease or illness, but that doesn't mean it cannot be treated and people go on to lead a normal life. But, like someone with a nut allergy who can never eat nuts, so a recovered addict will need to continue with abstinence.
4) Addicts must hit rock bottom before they can recover
Treatment for addiction can start at any stage, and, like all diseases, the longer you leave it
before getting treatment, the harder it is to treat.
5) You can't force someone into treatment
In the grip of addiction, it can be difficult for people to see the options and that treatment is
possible. So sometimes, interventions are needed and once the alcohol or drugs are out of
their system, they are able to make the decision that they want to change and can begin
treatment.
6) Relapse is failure
Addiction is a disease that may require repeat or ongoing treatment. It may take a number of
treatment cycles so relapse should not be seen as failure, but merely a stage in the road to full
recovery.
7) Addicts can't hold down jobs
Many peole with with drug or alcohol addiction are 'high functioning addicts' and are able to
hold down jobs and hide their addiction. If left untreated, however, this cannot be maintained
and their addiction will get worse.